For every pet, we provide rehabilitation in addition to routine health care such as up-to-date vaccines and preventatives such as heartworm and flea control.
Because we are a 501(c)(3) non-profit, our fees are not the same as a typical county shelter ("pound"). Unlike these shelters, we are neither subsidized by taxpayer money, nor do we receive any kind of government assistance. It costs, on average, over $530 to fully vet a healthy pet. Many of our pets arrive with major medical issues, and cost well into the $1,000s to save – but we think they're worth it. To help us offset the cost of rescue, we have special fundraiser fees on certain pets. We are able to continue rescuing by asking a little more for our most popular pets. All fundraiser fees go 100% back to the animals, and they are tax-deductible. In addition to these fundraisers, we have a special reduced-fee program (also noted below), and we hold multiple reduced or fee-waived events each year to ensure all good homes have an opportunity to adopt.
If you're a senior looking to adopt, please check out our reduced rates for the Senior-to-Senior Program.
Dogs
All of our dogs are up-to-date on age-appropriate vaccinations, are spayed/neutered, receive monthly flea and heartworm preventative, and are micro-chipped with registration. We also heartworm test when they are old enough. They are examined by a veterinarian, and will get a bath and nail trim prior to heading home.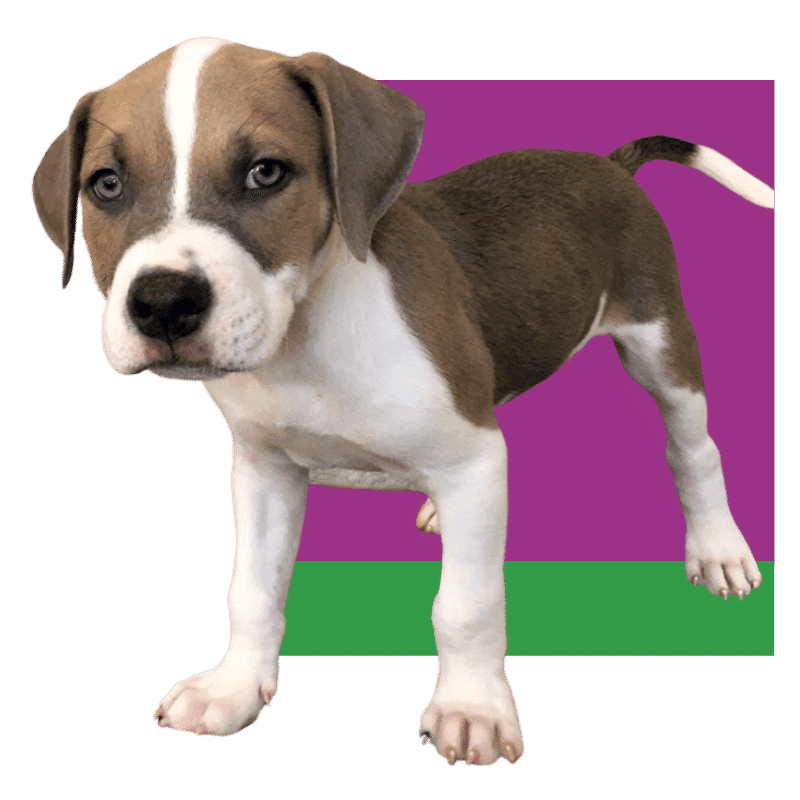 Standard Dog Adoption Fees
Adoption fees are based on age and small versus large breed as follows:
For puppies up to 6 months old:

$575 for small breed puppies under 32 lbs. at full grown
$500 for large breed puppies over 32 lbs. at full grown

For adult dogs 6 months to 8 years:

$525 for small breed dogs under 32 lbs.
$300 for large breed dogs over 32 lbs.

For dogs 9 years and older:

$250 for small and medium breed dogs under 32 lbs.
$100 for large breed dogs over 32 lbs.

$50.00 discount for senior dogs if the adopter is also a senior of at least 65 years old
Cats
All of our cats are up-to-date on age-appropriate vaccinations (up to the time of adoption), spayed/neutered, receive monthly flea preventative, and are micro-chipped and examined by a licensed veterinarian.
Standard Cat Adoption Fees
$225.00 for kittens up to 6 months old
$175.00 for adult cats 6 months and older
$75.00 for cats 9 years or older
$25.00 discount for senior cats if the adopter is also a senior of at least 65 years old
Special Fees
A pet's adoption fee may be higher or lower than the standard fees. Occasionally we will have an abundance of pets in a specific age group designation. In that event, we are likely to offer a limited-time special discounted adoption fee. Sometimes businesses, individuals, or groups will sponsor pets or adoption events. Please keep an eye on our website and Facebook page to keep informed of such promotions. These promotions include reduced adoption fees, free pet supplies, free vet clinics, and more. In other instances, pet fees may be higher than standard fees to offset the costs of medical bills for special needs pets.
Reduced Fees
Forever Hope Reduced Fees
Forever Hope is a special designation for pets that have been with us longer than we feel is good for their well-being. Their adoption fee is significantly reduced – many of these pets are $25, $50, or $100. Some even have waived/sponsored fees.
Fundraiser Fees
We do our best to indicate in a pet's profile if they are a fundraiser pet. You may contact us to be sure.

We try to always inform adopters about fees before they make the trip out to our Center. Sometimes, fundraiser fees do change – often times they get lowered. To try and provide the most accurate information possible, our Adoption Coordinator or a manager will confirm the fundraiser fee when scheduling your appointment, if not before. Please note that it may take a few days to finalize a fee for pets new in our care.
When determining a fundraiser fee, we take into consideration how many special-needs pets we have with us who require extensive medical care (100% of the fundraiser fee is applied to lifesaving treatments for our special-needs pets), as well as the age and breed of a pet. There will never be a shortage of homes for purebred and "flashy" pets, and we know that these pets will always find homes quickly. We understand not everyone will be able to contribute to our Sunshine or Have-A-Heart fundraisers through adoption. For that reason, we also have an abundance of Forever Hope pets. These are friendly, loving pets who have been with us longer than we feel is necessary or who may be a little "plain." These sweet and loving pets often wait months for homes and are constantly overlooked. Their fees start at just $50 to help them find families. And they're all fully-vetted, too!
Sunshine Fund Fundraiser Fees
The Sunshine Fund was created to raise money for the medical bills of pets that have come to us in great need. Surgeries and special care for just one of these pets often reaches thousands of dollars. Occasionally, when we are experiencing costly special care cases, we will designate a pet as a "Sunshine Fundraiser Pet," bringing sunshine to others. The adoption fee will be higher than standard to help cover medical care for special needs pets.
Have-A-Heart Fund Fundraiser Fees
The Have-A-Heart Fund was set up to raise money for treatment of our heartworm positive dogs. We take in a high percentage of heartworm positive dogs. These loving pets are often euthanized in county shelters because of the high cost of treating this deadly disease. A vet bill for each of these dogs is $400 to $800. By asking a higher fee ($100 additional) on selected pets, we are able to help more of these dogs who would otherwise be without hope.
We appreciate your patience with us as we find these pets forever homes.